Current projects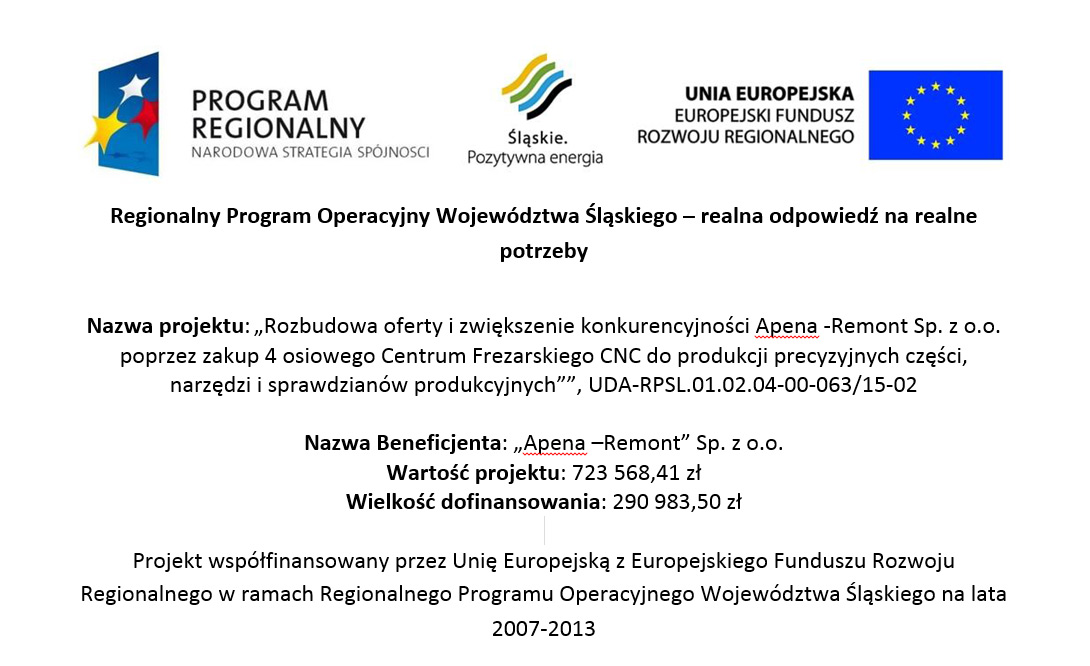 Project description Developing competitiveness and broadening the offer of Apena-Remont Ltd. with purchase of 4-axis CNC milling center used for precise parts and tools manufacturing and production testing. UDA-RPSL.01.02.04-00-063/15-02   Nazwa Beneficjenta: "Apena –Remont" Sp. z o.o. Project value: 723 568,41 zł Amount of funding: 290 983,50 zł   Projekt współfinansowany przez Unię Europejską z Europejskiego Funduszu Rozwoju Regionalnego w ramach Regionalnego […]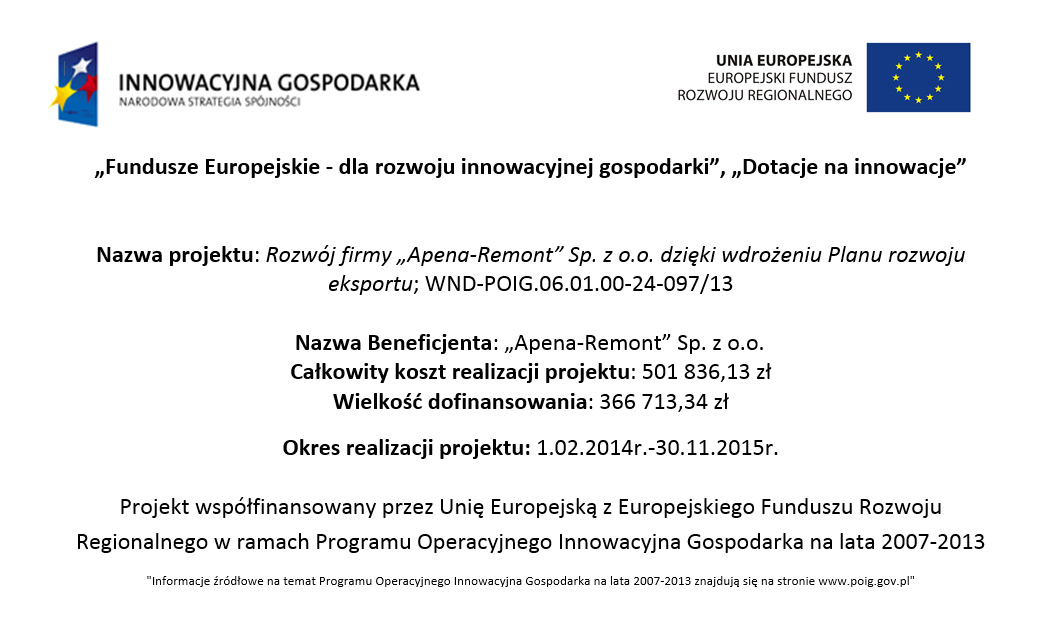 Project descriptionInnovative Economy Operational Program for years 2007-2013 Measure 6.1 Passport to Exporting, Priority Axis 6, Polish Economy on International Market Stage II – Implementation of the Export Development Plan   Project value: 501 836,13 PLN Amount of funding: 366 713,34 PLN ( 75,00%) Project period: 01.02.2014 – 30.11.2015     Program w trakcie realizacji […]
Completed projects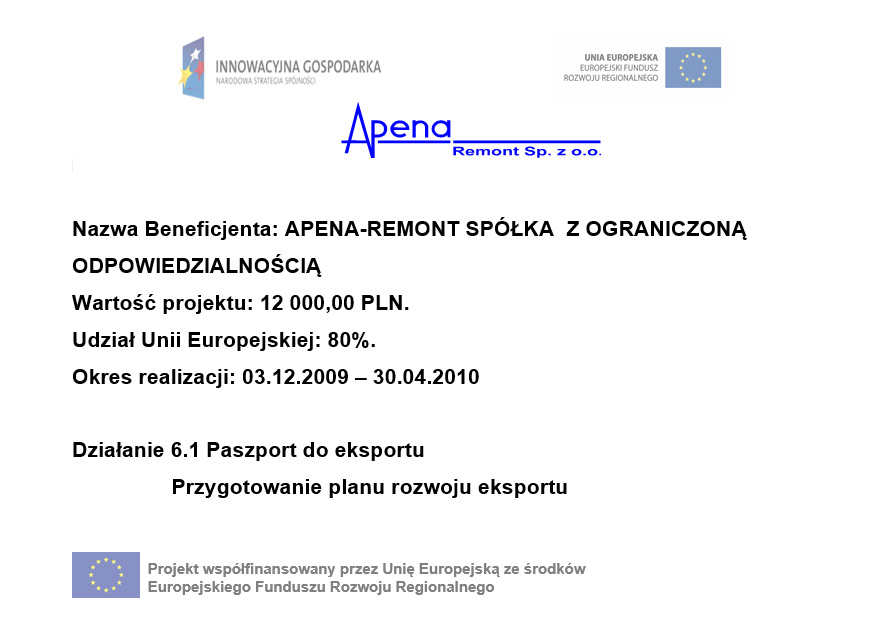 Project descriptionInnovative Economy Operational Program for years 2007-2013 Measure 6.1 Passport to Exporting, Priority Axis 6, Polish Economy on International Market Stage I – Preparation of the Export Development Plan Project value: 12 000,00 PLN Amount of funding: 9 00,00 PLN ( 80,00%) Project period: 03.12.2009 – 30.04.2010 Attachments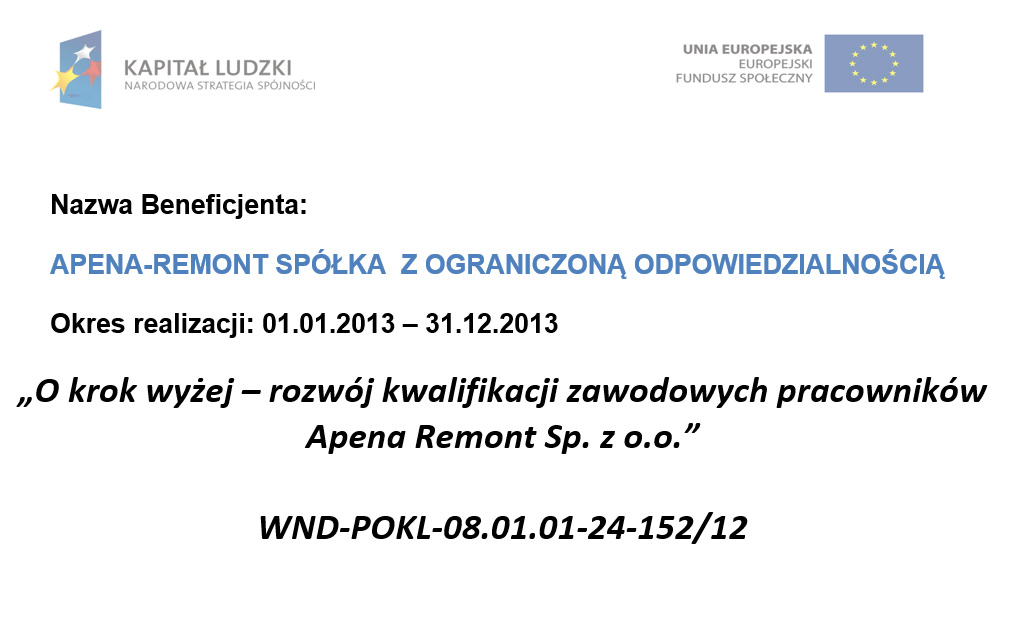 Project descriptionHuman Capital Operational Program A step forward – development of professional skills of Apena-Remont employees Ltd. Project value: 353 872,07 PLN Amount of funding: 247 395,21 PLN ( 70,00%) Project period: 01.01.2013 – 31.12.2013   Project completed Attachments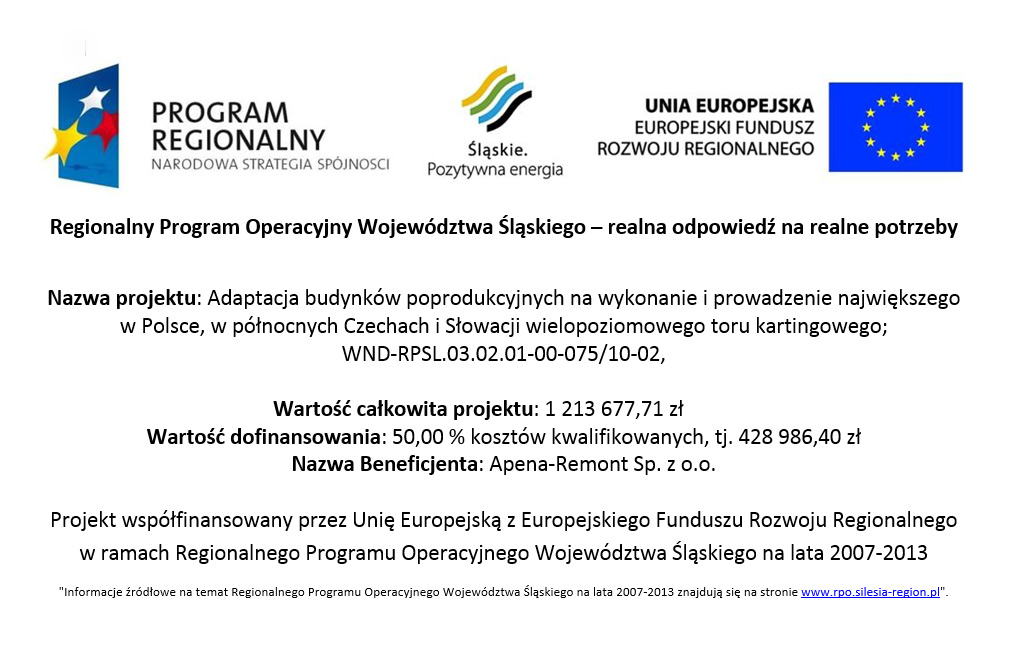 Project descriptionThe Regional Operational Program of the Silesia Voivodeship for years 2007-2013 – addressing the needs Conversion of workshops into largest multi-level karting track in Poland, north Czech Republic and Slovakia Project value: 1 213 677,71 PLN Amount of funding: 428 986,40 PLN ( 50,00%) Project period: 03.10.2011 – 31.12.2012   Project completed Attachments
European Union Funds
Apena-Remont Ltd. enhances its organization by taking part in training and investment projects. Thanks to European Union Funds the company received means to modernize machine park and to provide investment and training programs. 
Apena-Remont Ltd. was able to complete following projects as a part of Operational Regional Development Program:
With EU Funds Apena-Remont Ltd. managed project for total amount of PLN 2 099 900.91 from which PLN 1 069 980.95 came from EU Funding.